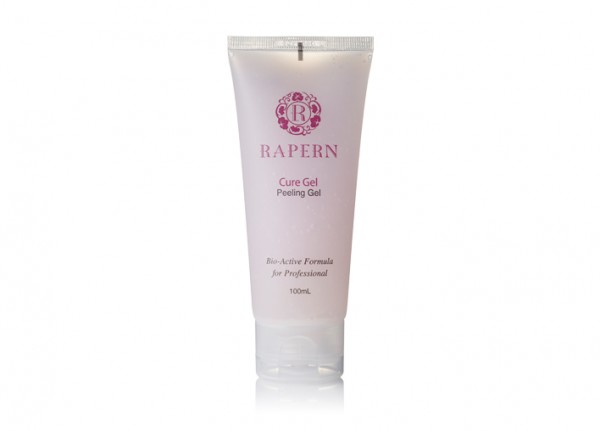 It always makes skin fresh by removing wastes accumulated
to the outermost stratum corneum.
It enables skin to breath by getting rid of various pollutants and by controlling the sebum.
The protection and hydration ingredient like resveratrol in peeling gel acts on skin makes
skin moisturized, more bright and elastic even after exfoliation.
Resmelin (patent pending 10-20080068390)
It is composed of 3 mixtures of highly concentrated Resveratrol separated by biotechnology,
Thuja Orientalis leaf with antioxidant efficacy, and Zanthoxylum schinifolium.
사용법
1. After cleansing and removing moisture o your face, take a right amount, and massage yourentire face by hand.

2. Massage thoroughly until wastes excreted from the cornified layer, and wash your face clean with water.

3. Please use 2-3 times/week for oily skin, and 1-2 times/week for dry skin.

* If toner or essence is used after using cure gel, you can get a better effect with them as the skin becomes the optimal condition to accept external nutrition because of the removal of all wastes.
전성분
Purified water, Cetrimonium Chloride, Glycerin, Butylene Glycol, Carbomer, Pentylene Glycol, flavor, Salicylic Acid, Asiatic Pennywort Extract, Zanthoxylum Piperitum fruit extract, Usnea Barbata(Lichen) Extract, Pulsatilla Koreana Extract, Polygonum Cuspidatum Root Extract, SkullcapExtract, Licorice Extract, Green tea extract, Thuja Orientalis leaf extract, Rosemary leaf Extract, Chamomile Flower Extract, Sodium Hyaluronate, 1,2- Hexanediol, Phenoxyethanol, Resveratrol, Ethylhexylglycerin, Food Red No. 2